Good Morning lovelies!!!!!!!
As you know my fiance recently celebrated a Birthday, so today I'm showcasing my OOTN (outfit of the night) for his birthday celebration. Some of you may remember awhile back I did a review on a blue peplum dress from
Posh Shoppe
. They actually sent them to me in 2 colors and I am just now getting around to wearing the pink one. Even tho I am not a fan of wearing skirts above my knee, I have been embracing them this summer and it's not as bad as I thought it would be :) Every woman has things that she would like to change about herself, but true confidence is about working with the body you have NOW and making the best of it. Note: You will definitely be seeing more of me in shorter length skirts :)
I loved the vibrant pink color of the dress and when I put it on, I knew instantly I wanted to pair it with my mint green suede pumps that I can't seem to get enough of. Pink and Green are colors that most people are used to seeing paired together so to make it a little more unique I decided to wear this leopard oversize clutch that has been patiently waiting in my closet to be worn. I love leopard and I would wear it everyday if I could!!! Since the outfit is very bold and colorful I decided to keep my jewelry understated with a gold chain link necklace that doesn't compete too much with everything else I have going on with this look.
This is definitely one of my fave looks of the summer so far and it makes me wish I had worn a little more pink. I will be definitely incorporating some pinks into my wardrobe for Fall.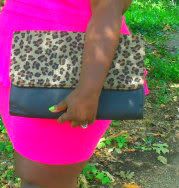 Dress-
Click Here To Purchase
Shoes, Bag, Necklace- Ebay
What do you think of this look?
Until next Time,
XOXOXOXOXOXOXOXOXOXOXOXOXOXOXOXOXOXOXOXOXOXOXO